National Sport Information Centre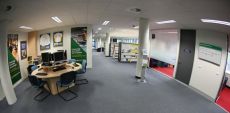 Connecting Australian sports people to a world of ideas, experiences, and knowledge.
The National Sport Information Centre (NSIC), is Australia's premier sports research library and information service provider.
Located on the grounds of the Australian Institute of Sport (AIS) in Canberra, the NSIC is open to the public and makes available a comprehensive range of research library resources to the Australian sports community.
Visitors are welcome to browse the NSIC's library collections and utilise our audio-visual and information technology facilities while being immersed in a dynamic sports environment.
The NSIC is an integral element of the AIS national high performance sport training centre environment and plays an important role in supporting the work of Australia's leading sports practitioners including coaches, sports administrators, researchers, scientists and medical staff.
The NSIC also provides a range of expanded services to Australia's national elite level athletes, including past and present AIS scholarship holders.
The NSIC's friendly and professional staff are on hand to help ensure you make the most of your time within the Centre.
Online access to the NSIC's information and research resources is provided through the Clearinghouse for Sport (Clearinghouse), an Australian sport sector information and knowledge sharing initiative.