PyeongChang 2018
Record Aussie team reflects growth of Paralympic sport
Published: 09 Mar 2018
Australian Sports Commission (ASC) chief executive Kate Palmer says she's proud Australian Paralympic sport continues to grow as the country fields its largest ever Winter Paralympics team in PyeongChang, from March 9-18.
"I congratulate the 15 athletes representing Australia in South Korea and wish them the best, they will be making history and they embody the progress of Paralympic sport in this country and around the world," Palmer said.
"A total of 15 athletes may look like a small team on paper, but we know it's a strong Australian team and it reflects the growth of the Winter Paralympics. Our Aussies will be competing among almost 700 athletes from around the world, a growth of more than 30 per cent since Sochi 2014.
"Over the years, 40 athletes - including five guides – have had the opportunity to represent Australia at a Winter Paralympics. Incredibly, they have claimed 30 medals, and a medal at every Paralympics since 1992.
"Nine more athletes will be making their Winter Paralympic debuts for Australia in South Korea and we know they'll represent us with distinction.
"I'm looking forward to cheering on from the stands and to meeting the families and friends who've been part of these great sporting journeys."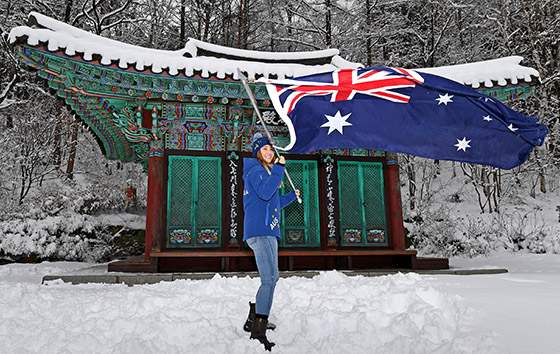 Australian co-captain and Opening Ceremony flag bearer, Joany Badenhorst. Photo: Australian Paralympic Commitee
The Australian team will be led by captains Mitch Gourley and Joany Badenhorst, both highly ranked in the world. Para-Alpine skier Gourley is number three in the world in giant slalom and super combined, while Badenhorst is the top ranked snowboard cross athlete and world number three in banked slalom. Two-time Paralympian Melissa Perrine is ranked world number two and three in slalom and giant slalom respectively.
Palmer also praised the resilience of athletes such as vision-impaired skier Shaun Pianta who tore the anterior cruciate ligament in his knee in January, but has been added to the Paralympic team after undertaking rehabilitation at the AIS.
"The ASC and AIS are proud of the support we provide to Paralympic sport and there's far more to it than funding," Palmer said.
"I commend the leadership of the Australian Paralympic Committee who continue to create further opportunity for athletes with a disability. I wish Chef de Mission Nick Dean and the support team well. To all Aussie sport fans, make sure you follow our Winter Paralympians. Let these wonderful athletes know how proud we are as a nation."