ASC congratulates Simon Patmore for making history
Published: 12 Mar 2018
Australian Sports Commission (ASC) chief executive Kate Palmer has congratulated snowboarder Simon Patmore for becoming the first Australian man to win a medal at a Summer and Winter Paralympic Games.
The 30-year-old from Brisbane claimed gold in the men's snowboard cross SB-UL, Australia's first gold medal at the PyeongChang Games and the country's first at a Winter Paralympics since 2002.
The athletic allrounder, who only turned his primary focus to snowboarding four years ago, took bronze at the 2012 London Paralympics in the T46 200m and Commonwealth Games gold in the 100m at the 2010 Delhi Games.
He is the second Australian, since Jessica Gallagher in alpine skiing and cycling, to win a medal at a Summer and Winter Paralympics.
"What a phenomenal performance from Simon, this is a significant moment in Australia's Paralympic history," said Palmer, who attended the medal ceremony.
"It's amazing to think about the dedication required to become the very best in the world in one sport, let alone to switch to another completely different discipline and rise to the top again.
"The ASC and AIS are so passionate and proud about supporting the ambitions of all our Paralympians because we see the tireless effort from our athletes and their support networks to represent and inspire our nation. It's so wonderful to see that excellence rewarded with a gold medal, the first at a Winter Paralympics in 16 years."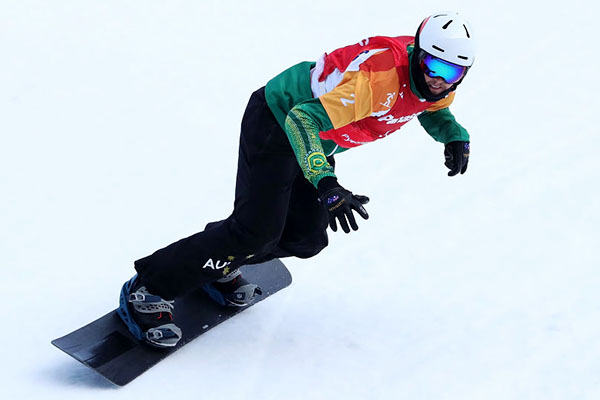 Simon Patmore during the final of the men's snowboard cross SB-UL. Photo: Getty Images
Patmore defeated Italian Manual Pozzerle in the final. Australia has now won 12 gold medals at Winter Paralympic Games and Patmore is the fifth Australian athlete to claim gold. The Australian Paralympic team has won a medal at every Winter Games since 1992.