Australian Sports Commission's First Nations Artwork
As part of the Australian Sports Commission's ongoing commitment to reconciliation, we have worked with a First Nations artist to develop something meaningful which showcases both Aboriginal and Torres Strait Islander cultures to become part of our identity and brand. This artwork represents what we stand for as a leader in the Australian sport sector and the key role sport plays in the lives of all Australians.
Artist, Brad Hore OLY and ASC representatives speak about the story behind the art piece and the process of creating the artwork which is titled 'Kinship'.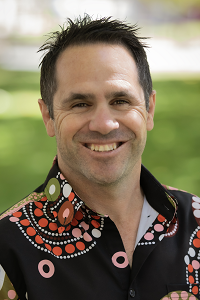 Brad Hore is an athlete turned artist. Brad competed at an International level for over 25 years as an amateur and professional boxer, he represented Australia as a Flyweight Boxer at the 2000 Sydney Olympic Games and 2004 Athens Olympic Games.
When state lockdowns restricted Brad's ability to return home to country in 2020, Brad's mental health struggled and art became a way to provide focus and connect to country.
Community and family support has contributed to Brad's sporting career, but nothing ever came close to coming home to country. Brad has worked in Indigenous health for over 10 years and is a big advocate for mental health and believes connection to country can be a very healing experience.
Brad's Indigenous identity is a credit to his grandmother and mother, both Dunghutti women, who have led the way; never giving up and giving back to their people.
Artwork story: Kinship
Kinship is a story of belonging, belonging to country, to community and to opportunities.
Our stories are shared, whether the journey is alone or with others as a team, our stories shape our history and the pathways for our future.
We are inspired by and support those that lead, but we each take many steps individually. This painting shows you are never alone, that with being a part of the Australian Sports Commission community, you are supported and belong.
You belong here on country, you belong as part of our diverse lands and communities, and you belong because you are part of the bigger picture, where all are brought together through sport and the strength, resilience and determination of others.
Women in sport, women in support, women in culture, it's relationships that build on the courage of all that lay before them, young and cherished.
Men align, men combine, men help create a sense of connection that shapes our future and our stories.
Youth build, youth learn and adapt and bring new futures to those who dream a bigger dream.
It's the mastery of the boomerang that represents the continuation of sport and how it cycles through generations. No matter where you travel, you belong, you are led by our national sporting body alongside the national animals the kangaroo and emu who only step forward, no matter what lies ahead.
Our strength of belonging keeps us going and we are all connected through kinship that we share throughout our lifelong sporting journeys.
Return to top