The ASC operates facilities, residential services and other activities for NSO high performance programmes, other sporting groups and commercial visitors to the AIS Campus in Bruce, Canberra. The ASC also operates strategic sports training facilities at Yarralumla (Canberra), Pizzey Park (Gold Coast) and at Varese in Italy.
During 2014–15, the ASC undertook several key facility refurbishment projects focused on maintaining and improving the high-quality training environment available at the AIS. Projects also aimed to implement changes to support Australia's Winning Edge strategy, the new AIS brand, and the organisational restructure following the Operational Effectiveness Review. These projects included:
AIS Track and Field Centre — replacement of timber terrace with concrete viewing area
AIS Aquatic and Fitness Centre — installation of new enclosed room for pool-side timing system, enhancement to the courtyard between pools and brand installation
AIS High Performance Centre — reconfiguration of entry, renaming and new signage to reflect the centre's main entry point
AIS Campus – completed site-wide security upgrade including the roll-out of a new access control system, further LED lighting to external pathways and buildings, and additional security cameras
various buildings – installation of signage, fit-out of offices and creation of storage areas to support the on-site centres of excellence for Athletics, Boxing, Football, Gymnastics, Judo and Volleyball
AIS Rowing Centre (Yarralumla) — installation of new flooring in the ergo, gymnasium and weights room for Rowing Australia
AIS National Training Centre (Pizzey Park) — upgrading of security systems.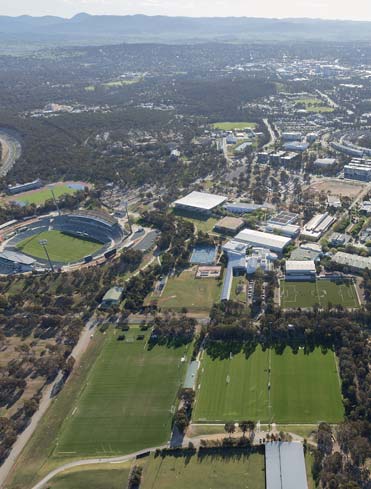 AIS Campus, Canberra