The Australian Sports Commission
The ASC is a statutory authority within the Australian Government's Department of Health portfolio. It was established in 1985 and operates under the Australian Sports Commission Act 1989. The ASC is governed by a board of commissioners appointed by the Australian Government. The Board determines the ASC's overall direction, decides on the allocation of resources and policy for delegated decisions, and is accountable to the Minister for Sport and to Parliament.
The ASC plays a central leadership role in the development and operation of the Australian sport system, administering and funding innovative sport programmes and providing leadership, coordination and support for the sector. The ASC works together with its partners, recognising a shared approach that brings together expertise from a range of organisations will deliver greater results than any single agency working alone.
The ASC has staff and offices across Australia and internationally in the Italian province of Varese. Its headquarters are at the AIS Campus in Bruce, Canberra. There, the ASC operates a 65‑hectare multipurpose campus with sporting, administration, commercial and residential functions.
Supporting the Play.Sport.Australia. strategy, the ASC has 12 regional offices with small teams administering the Sporting Schools programme and delivering other priority ASC activities. Our high performance sport outcomes in support of Australia's Winning Edge are delivered primarily at the AIS Campus in Bruce, but this facility is augmented with a smaller northern facility based in Pizzey Park on the Gold Coast and the European Training Centre in Varese, Italy.
Our values
The ASC values — Respect, Integrity, Teamwork and Excellence — establish the foundations for the way the Commission does business and works towards organisational goals and objectives. The values reinforce the expected behaviour of ASC staff in their daily operations within and outside of the organisation.
Key activities or changes
There have not been any key activities or substantial changes in the structure or direction of the ASC during 2014-15.
Organisational structure
Organisational structure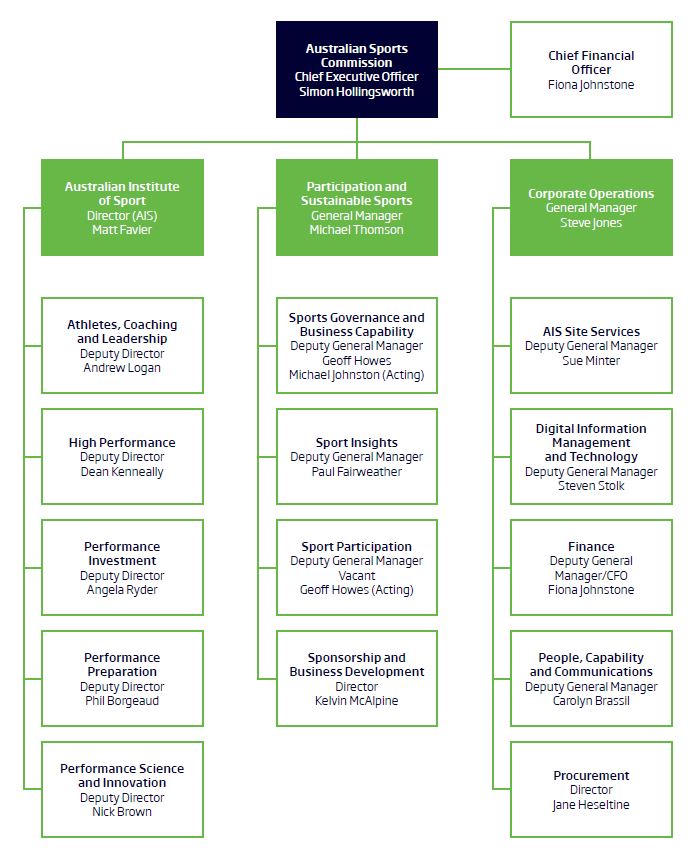 ---
Text version of Organisational Structure
Australian Sports Commission - Chief Executive officer - Simon Holllingsworth
Australian Sports Commission - Chief Financial Officer - Fiona Johnstone

Australian Institute of Sport - Director (AIS) - Matt Favier

Athletes, Coaching and Leadership - Deputy Director - Andrew Logan
High Performance - Deputy Director - Dean Kenneally
Performance Investment - Deputy Director - Angela Ryder
Performance Preparation - Deputy Director - Phil Borgeaud
Peformance Science and Innovation - Deputy Director - Nick Brown

Participation and Sustainable Sports - General Manager - Michael Thomson

Sport Governance & Business Capability - Deputy General Manager - Geoff Howes and Michael Johnston (Acting)
Sport Insights - Deputy General Manager - Paul Fairweather
Sports Participation - Deputy General Manager (Vacant) - Geoff Howes (Acting)
Sponsorship & Business Development - Director - Kelvin McAlpine

Corporate Operations - General Manager - Steve Jones

AIS Site Services - Deputy General Manager - Sue Minter
Digital Information Management & Technology- Deputy General Manager - Steven Stolk
Finance - Deputy General Manager/CFO - Fiona Johnstone
People Capability & Communications- Deputy General Manager - Carolyn Brassil
Procurement - Director - Jane Heseltine